Take a

RISKY CHANCE

on Three Cities!
Three Cities is a loud, proud, colorful, good-timin' rock 'n' roll band from Indiana. Their sound — which has been described as both Saved by the Bell Metal and Camaro Rock — draws heavily from bands like Led Zeppelin, Queen, Deep Purple, Van Halen, Rush, Yes, Genesis, The Who, Black Sabbath, Iron Maiden, Pink Floyd, The Doors, and KISS. They like big hooks, shred solos, soulful vocals, loud drums, cheesy synths, vocal harmonies, groovy riffs, distortion, and raw energy!
They've also made it their mission to spread Serious MEtAL Illness to every single person they meet!
What is Serious Metal Illness?
Serious MEtAL Illness is that feeling you get speeding down the highway in an '85 Camaro blasting your favorite riff. It's that first sip out of an ice cold can o' Corn Syrup Lite on a hot summer day. It's when you blend Animal House, Wayne's World, and Roadhouse into a delicious $5 milkshake with a splash or 10 of Maker's Mark.
Serious MEtAL Illness is about lovin' life and being rad, and in times like these, everyone could stand to catch a little bit of the illness!
Three Cities Is…
J. Will – Vocals
TV's David L. Herring – Keys
Barry Lee Legal – Guitars
Rad Brad – Drums
Anthony – Booking
Todd – Patron Saint of Partying
Albums
Serious MEtAL Illness – April 2019
Live from Lafayette – September 2017
For the Price of One – January 2016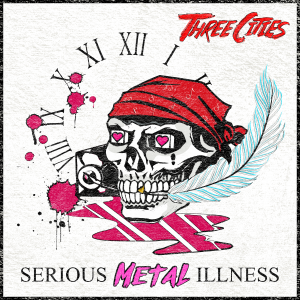 Here's What They're Saying About Three Cities
"Dynamic. Soaring. Unexpected. Wild. THREE CITIES converge at a knife point and give us this succulent 70's/80's hair band nostalgia that just doesn't quit. In 'Risky Chance' it's that story that we're all familiar with in our personal lives – looking for love, finding love, hoping for that chance to prove to her that we're the one. Rocking guitars, fabulous attitudes, combine flawlessly to throw everything out the window in this single, as the dastardly talented artists drive you just bonkers with exalting chords and lyrics. Motley Crue, Cinderella, Boston, Chicago, KISS – THREE CITIES knows how to do hard-rock, right. What a party. Invite them to your next venue!" – Come Here Floyd

"Three Cities has a cheesy, yet intoxicatingly infectious quality on their new single, "Risky Chance." The 80s-inspired tune holds everything from a strong hook to a music video that is sure to put a smile on your face. It's difficult to completely repaint a retro track in a different time period, and Three Cities did it with flying colors! Everything from the production to instrumentation, this was a sparkling gem we're glad we stumbled on." – Gas Mask Magazine

"If the end of Rodney Dangerfield's Back To School had continued on to his open house party I would imagine the band playing that party could very well have been Fort Wayne's Three Cities. These guys bring to the table an 80s hard rock flair that isn't meant to be a schtick or tongue-in-cheek. It's an earnest sound that comes from the heart. There may be beer bongs going on while these guys tear through a set, but nobody's getting hurt. It's just good fun with some power chords, soulful vocals, and a "party on" vibe. Something Mr. Dangerfield would've approved of." – Rock and Roll Saviors by John Hubner, Fort Wayne Reader

"The song, Time Will Tell is a hearty synth driven rocker comfortably reminiscent of Deep Purple. The track, from their debut release For the Price of One, is a rollicking burner riding on the back of fantastically lush keyboards, nicely paired with smoking guitars and drums. The instrumentation is strong, and provides an excellent bed for soulful Lenny Kravitz-esque vocals." – Cretin at RaRasFarm.com

"Three Cities are dedicated to not only represent the classic rock era of the 70s, but are also helping to keep the hard rock spirit of those bands alive and well in a musical climate where EDM, rap and pop enjoy wide commercial popularity." – Colin McCallister, Whatzup

"Three Cities take having a good time seriously. It shows in their live shows, their videos, and it shows in their recorded output…Three Cities' Live from Lafayette is a testament to weekend jams, the rock n' roll life, guitar tunings between songs and four dudes laying down some serious jams to ignite your brain. Long live Three Cities, and long live rock n' roll." – Live from Lafayette Review by John Hubner, Whatzup

"A 13-track freshman album is impressive all on its own. For four guys to work together this well and produce such a prolific first time outing, you would expect a laboriously sounding effort, filled with fillers and fluff injected into the the overall content. Yet in this case, quantity in no way compromised quality. With notable similarities in the writing styles on each track, this four man band from the collective surrounding areas; (Lafayette, Fort Wayne, and Marion – "Three Cities") produce an overall smooth pressing, the result of an exceptional collaborative effort – Three Cities – For the Price of One." – RickerRocker Review of For the Price of One

"The album [For the Price of One] treads a variety of different styles, moods, oftentimes within the same song…and it is far preferable to the status quo of chuggy prog metal, with eclectic influences and a tendency to go pretty hard at times – something most of the genre tends to forget about." – Halfbeat Magazine

"It is not metal. It is far more of a prog\rock thing. Arena, Pink Floyd, but with some "classic rock" type elements as well. It works like magic and this album has put every other disc in the queue on hold indefinitely." – Scott B on the PMX2 Forum

"Rock with awesome vocals, shredding guitar, killer keyboard and banging drums. What more can you ask for?" – iTunes Review
Booking Email
booking@threecitiesband.com
Hi-Res Photos